Professor Han Receives Prestigious 2019 BPS Innovation Award
The Biophysical Society (BPS) has named Professor Songi Han its 2019 Innovation Award winner. Prof. Han was honored at the Society's 63rd Annual Meeting at the Baltimore Convention Center on March 5, 2019, during the annual Awards Symposium.
By Khanh Nguyen
March 11, 2019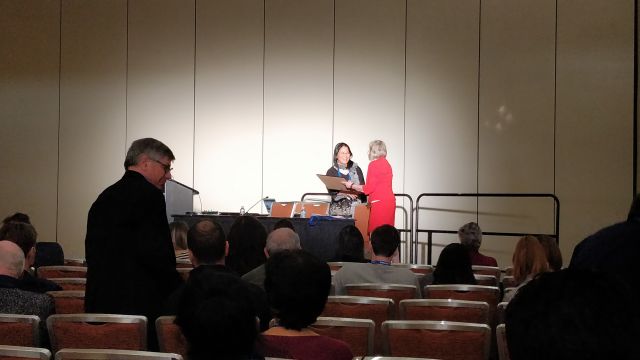 The Biophysical Society (BPS) has named Professor Songi Han its 2019 Innovation Award winner. Prof. Han was honored at the Society's 63rd Annual Meeting at the Baltimore Convention Center on March 5, 2019, during the annual Awards Symposium.
Prof. Han was given this award for her inventions of solid-state and time-domain-capable dynamic nuclear polarization (DNP) instrumentation and of Overhauser dynamic nuclear polarization to characterize surface water in biological and soft materials.
The BPS Innovation Award recognizes a BPS member who advances the fundamental understanding of biological systems through the development of novel theory, models, concepts, techniques, or applications.