Audra DeStephano Selected as the 2022 Edward J. Kramer Prize in Materials Recipient
Audra DeStefano has been selected to receive the 2022 Edward J. Kramer in Materials for her poster presentation on "Local Water Dynamics Throughout the Corona of a Polymeric Micelle"! 
By Celeste Tobar
May 31, 2022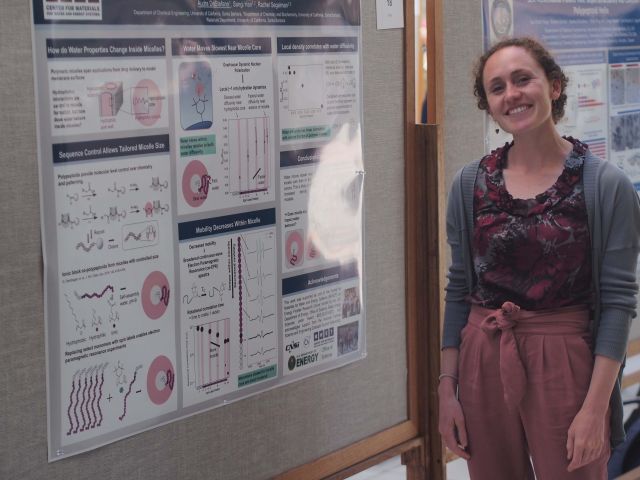 Audra DeStefano, a fourth-year PhD student co-advised by Prof. Songi Han and Prof. Rachel Segalman, has been selected to receive the 2022 Materials Research Outreach Program (MROP) symposiums best MROP poster presentation award on her poster titled "Local Water Dynamics Throughout the Corona of a Polymeric Micelle".
Edward J. Kramer received a Ph.D. in chemistry in 1967 and was recruited to UCSB in 1997 after a 30-year career in materials science at Cornell University in Ithaca, New York. Since his arrival at UCSB in 1997, Ed had been very involved in continuing the success of the MRL and materials research at UCSB through leading independent research groups, mentoring graduate students and post-docs, and building industry connections and support.
The 2022 Edward J. Kramer Prize in Materials was endowed by Professor Ed Kramer and has been awarded at the MROP symposium to participants for the best oral presentation and the best MROP poster presentation. After Professor Ed Kramer's passing in 2015, UCSB MRL has continued the tradition of awarding the Kramer Prize to honor the legacy of Professor Ed Kramer and his dedication to research excellence and student development.
Congratulations, Audra!