Kate Zeng Completes Her Ph.D. for "Seeking the Structural Basis of Tau Seeding"
Congratulations to Dr. Kate Zeng on completing her Ph.D.!
May 31, 2022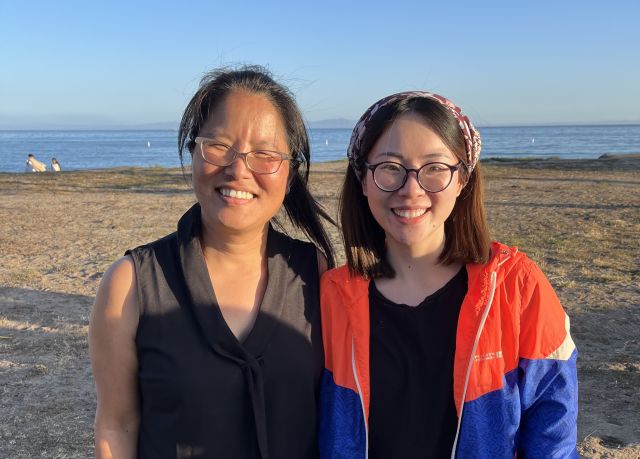 Kate joined the Han Lab in 2016 after graduating from South China University of Technology, Guangzhou, China. Kate's research has focused on understanding the aggregation of tau, an intrinsically disordered protein (IDP) implicated in neurodegenerative diseases including Alzheimer's Disease. She has been primarily interested in how tau can form extraordinarily stable amyloid fibrils and aims to understand its aggregation behavior and seeding from a structural point of view.
Kate's dissertation is on the topic "Seeking the Structural Basis of Tau Seeding". Tau is an intrinsically disordered protein found in neurons that binds and stabilizes microtubules. Under pathological conditions, tau aggregates into amyloid fibrils and a process which is central to several neurodegenerative diseases, collectively known as tauopathies. It has been proposed that tau pathology occurs in a "prion-like" mechanism, where pathological tau conformers (termed "seeds" or "strains") recruit native monomeric tau to form amyloid aggregates by templated seeding.
Kate's defense aimed to guide the audience through a tour to establish the experimental conditions that enable in vitro tau seeding, and to use these conditions to gain a molecular understanding of tau structures in seeded fibrils. Kate aimed to answer two key questions: (1) what are the defining properties or conditions that determine the shape of a fibril (e.g. physico-chemical conditions, tau state such as mutations, fragmentation, and/or the presence of cofactors)? and (2) What structural properties of the fibril are replicated and propagated in seeding, if at all?
Kate will now be taking on a job as a life sciences consultant at ZS Associates in San Francisco, CA. Kate's wonderful and bright personality will be greatly missed at the Han lab.
Congratulations again, Dr. Kate Zeng!