Michael Vigers Completes His Ph.D. for "Probing the aggregation landscape of Tau"
Congratulations to Dr. Michael Vigers on finishing his Ph.D.!
June 2, 2022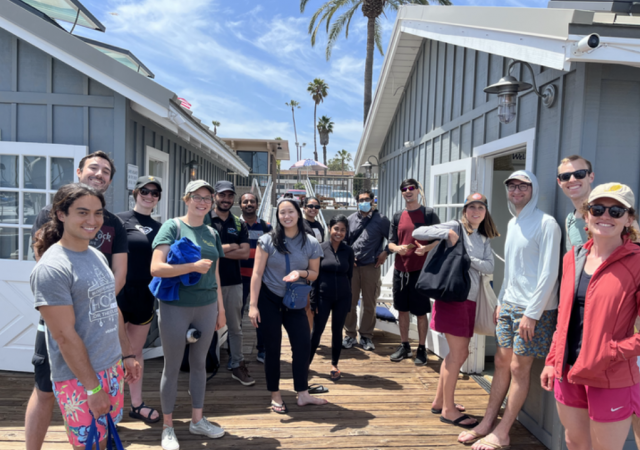 Michael joined the Han Lab in 2016 after graduating from Montana State University - Bozeman. Since then, his focus has been on characterizing the sequence-dependent function of intrinsically disordered proteins. In particular, Michael works with disordered regions of the A2a GPCR to understand the relative contribution of disordered regions to A2a's oligomerization properties, and the role of truncation of tau in its toxic aggregation behavior.
Michael's dissertation is on the topic "Probing the aggregation landscape of Tau". In the tauopathy group of neurodegenerative diseases, the intrinsically disordered protein Tau undergoes a transition from its native disordered state into insoluble, pathological amyloid fibrils, such as those found in the neurofibrillary tangles of Alzheimer's disease (AD). The mechanisms of Tau's aggregation are still unclear, despite decades of research.
During his defense, Michael described the driving forces of aggregation that arise from modifications to Tau's primary sequence. Using electron paramagnetic resonance and electron microscopy, Michael demonstrated an exploration of how aggregation is enhanced by lower conformational degrees of freedom in fragmented forms of Tau. Additionally, he described how a disruption to the protein hydration shell by the hereditary mutation P301L favors aggregation.  
Michael's dedication, hard work, and positive attitude have impacted us all at the Han Lab. 
Congratulations again, Dr. Michael Vigers!