Raj Chaklashiya and Brad Price Selected Awardees for the 2022 Twitter Conference on the Development & Application of NMR Spectroscopy
Raj Chaklashiya and Brad Price Selected Awardees for #GlobalnmrTC2022
By Celeste Tobar
September 2, 2022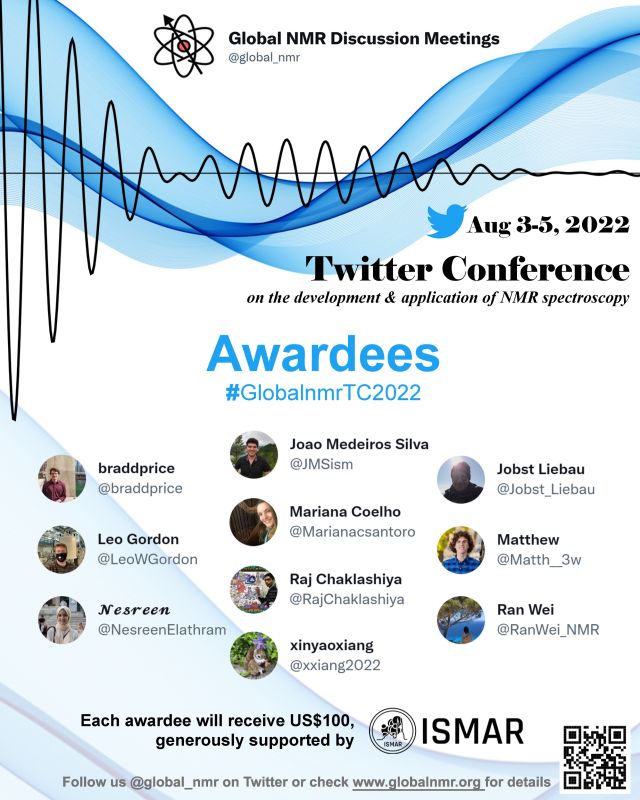 Raj Chacklashiya, a fifth-year PhD Student advised by Prof. Songi Han, and Brad Price,  advised by Prof. Mark Sherwin, have been selected to receive an award generously supported by ISMAR for their work presented at the Twitter Conference #GlobalnmrTC2022. 
Raj Chacklashiya presented a short video titles "Stable MAS NMR at Ultralow Temperatures from 24-100K: Global NMR Twitter Conference 2022" presenting the work at the Han Lab in collaboration with JEOL. Raj's amazing video can be found at https://www.youtube.com/watch?v=P2mokFTdUoo 
Brad Price submitted an EPR poster titled "Triggered functional dynamics of AsLOV2 by time-resolved electron paramagnetic resonance at high magnetic fields" where he demonstrates his initial results on filming protein motion in real time using EPR of protein AsLOV2 -- a photoactive protein found in plants. Brad's fascinating work can be found at https://twitter.com/braddprice/status/1554859649916178438/photo/1
Global NMR Discussions Meetings is a new webinar series managed by early career spectroscopists interested in spreading knowledge, techniques, and share ideas with both amateur and veteran spectroscopists. 
Congratulations, Raj and Brad!